Written by Vicky Noorland on Dec 20, 2018
A home with a view
Chris and Caroline Lewis don't do things by halves. In one year, they demolished their house, renovated their farm cottage, excavated a section and built their 310sqm, four-bedroom dream home on a four-acre section. And if that wasn't enough, moving day was in the middle of calving season.
Someone who witnessed Chris and Caroline's desire to see their dream home come to life was Urban Homes' project manager, Jordan Harding. For the better part of 2018, Jordan oversaw the build of this beautiful South Waikato home. Needless to say, the three of them all enjoyed a glass of bubbly on handover day.
When it all began
Chris, Caroline and their two children live on their farm in Pukeatua, a 30minute drive east of Te Awamutu at the base of Maungatautari Mountain. They'd built their house more than 10 years earlier but were ready for a change. The cost of renovating their existing house was on par with building a new one so they had plans drawn up and were ready to take the next step.
"We were driving around St Kilda in Cambridge one afternoon and I remember every house I liked had an Urban Homes sign out the front," recalls Caroline. "It was a Sunday, but I flicked an email off anyway and within two hours we had a reply from sales manager, Craig Geer. We thought if you could get a response that quickly on a Sunday afternoon, it was a good sign."
The Lewis's already had architectural plans for their new house but were open to suggestions. "Our architect had gone into a lot of detail and done a wonderful job, but the Urban team made suggestions that meant we could significantly reduce the cost of our build without losing any of the design," says Chris.
One of these suggestions was a slight change to the roofline. "Chris and Caroline's home was unique in that the placement of the house meant the roof itself would be a major feature. As you drive down their driveway, the roof of the house is the first thing you see – and you see all of it," says Urban Homes project manager, Jordan Harding.
"The roof design was extremely intricate and required significant engineering and cantilever work. We saw a way we could keep the look and style of the roofline without needing that extra engineering and save Chris and Caroline around $200,000."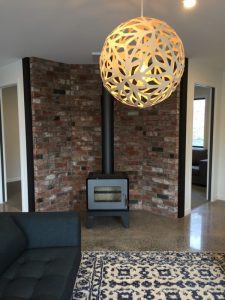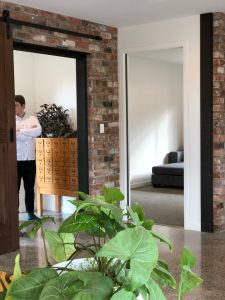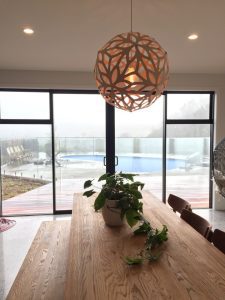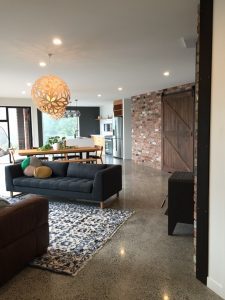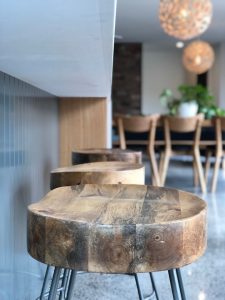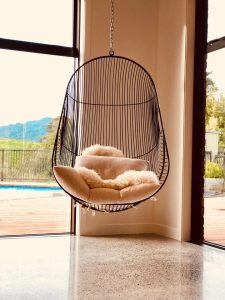 Craig suggested increasing the height of the stud in Chris and Caroline's home to 2550mm. This helps to create a feeling of space and openness. A distinguishing feature in the lounge is the use of recycled Canterbury bricks behind the fire place.
Chris and Caroline also had some features of their property they wanted to enhance with their new build. "We always said when we built the new house the pool would be a major focus," Chris says. "And we have five acres of native bush that we have planted up over the time we've been here, so we wanted to be able to look out on that too."
But the pièce de résistance was the views of Maungatautari Mountain.
"The mountain is right there," says Chris. "But in our old home we couldn't see it at all. In our new home, we've got views of the mountain from most rooms."
Working in partnership
It's not just the mountain that's a feature of Lewisridge Farm; there's plenty to admire within from to feature barn doors, oversized windows to boldly painted statement walls.
"About two or three years ago, we bought 8,000 recycled Canterbury bricks," says Chris. "The truck driver who came and stored them in our haybarn said 'what do you want these for?'. He came back not that long ago and saw how we've used them on the house and said 'Oh, I see!'"
"We've used three different types of cladding on the home and incorporated the Canterbury bricks into an indoor feature wall too. Urban were great at incorporating our ideas into the home," Chris says. "Jordan was outstanding. He's got a sense of humour similar to ours, is very efficient and there's no mucking about."

Chris and Caroline used three different types of cladding on their home, Rib50 and timber weatherboard, which accentuates the recycled Canterbury brick. Coloured steel cladding is low maintenance, has a long warranty and is relatively cost effective to buy.
In fact, it was the willingness of the Urban team to work together that most impressed Chris and Caroline. "Craig guided us throughout the whole process and helped ensure we made good decisions," says Chris. "The building journey was seamless. It was more stressful leading up to it to be honest, but we've built before so know what good process looks like and Urban definitely have good processes."
"We were also impressed how well everything was finished," adds Chris. "Everything is finished to a very high standard, both inside and out."
Turning a house into a home
Caroline was also impressed at how accommodating the Urban team was with incorporating the family's design wishes.
"I wanted a beautiful home but something that wasn't too show-home like," she says. "And it was important for us that the house complemented the environment it was to be built in. We have a lot of established trees on our property, plus Maungatautari Mountain nearby, so the home had to hold its own. It's all come together really well and looks amazing."
Caroline also had specific requests for the kitchen. "The kitchen is my thing. It's the hub of the house and I wanted real drama in it. I've got that with a beautiful slate colour and a big oven." There were also requests for the bathroom. "We've gone for walk-in showers because I don't like having to clean glass," she laughs.
Having gone through the build process twice, Caroline's advice for others building a home is to spend time on research. "Time is essential too," she says. "We had the time to look into renovation options first, then go down the build track. Ask questions and trust your gut."
Caroline admits she's asked many a question of Jordan and his team, but nothing has ever been too much trouble. "They are always so genuine and very honest about cost," she says. "The service from the Urban team has been amazing!"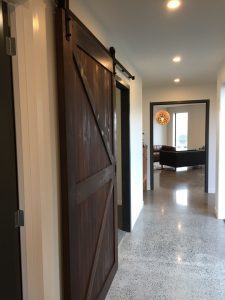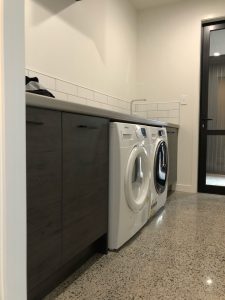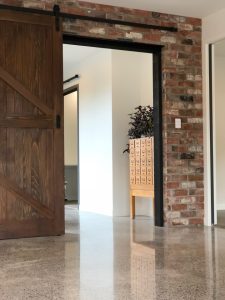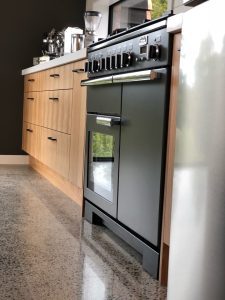 The polished concrete floor was a complementary feature to their home. Chris and Caroline chose a medium grind which reduced the depth the concrete had to be laid. The result is a stunning salt and pepper look in keeping with the modern style of the home.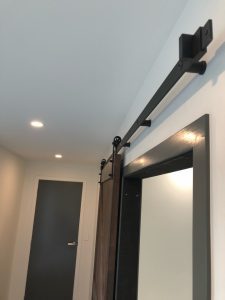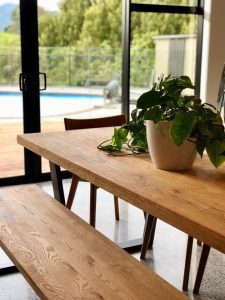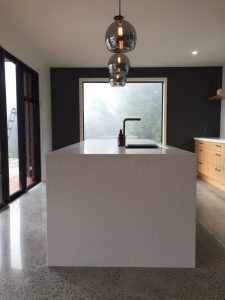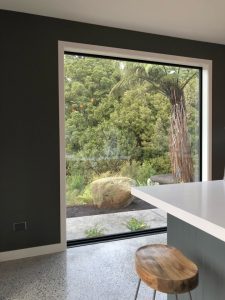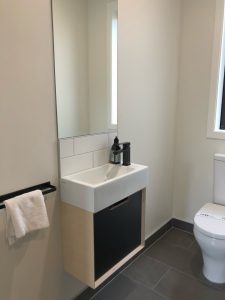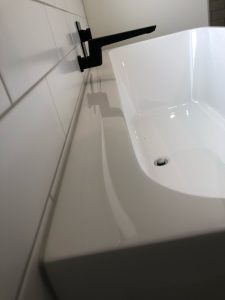 Do you have architectural plans for your dream home but want a cost-effective way to bring them to reality? Give the Hamilton-based builders a call today and challenge them to work their magic on your design.