Written by Vicky Noorland on Oct 16, 2018
Can I personalise pre designed house plans?
Planning your perfect home? You've no doubt lost count of the hours spent inside show homes, pinning images to your dream home Pinterest board, and following home and interior styling profiles on Instagram. But that's all part of the fun, right?
Yet despite all this, you still haven't found the plan for your dream home. Many come close, but none are quite what you're after.
Building from existing house plans is a great option for many home builders – it can make it much easier for you to plan, and budget, for your build. But can you personalise a house plan to make it your own and suit your needs? Yes! There are many ways you can personalise house plans and make your home unique – just like you.
Whether you want to convert one of the bedrooms into a study, create a home office for your business, or increase the size of your entertainment area for those long summer evenings with friends, building from a pre designed plan doesn't mean you can't bring your own ideas to the party.
Structural modifications
It pays to look around find a house building company that is willing to work with you to modify the structure of an existing floor plan to suit your lifestyle and budget. There will always be some structural elements that can't be changed, but there should always be room for flexibility. This is where your sales consultant and architectural designer can work with you to figure out what you need, and how to modify the plan to make it happen.
Choose the right cladding
Explore your cladding options, as this is one way to personalise your home and add your own style. Brick, timber, stone… we have access to many options in New Zealand. Making the right decision often comes down to your budget and lifestyle. For example, if you want low maintenance, brick is a good way to go. If you're wanting to make an impact with style, you might consider adding stone, cedar or a combination of cladding options.
Aim high with roof design
If you're looking to build from a plan, ask around about roof options, as you should have the option to personalise the roof. Options include hip, gable, monopitch or flat/parapet, or a combination of these.
Other options to consider are the roofing materials – do you want long run iron, concrete tile, steel tiles or shingles? This is another way you can personalise plans and take ownership of the overall aesthetic.
And don't forget indoors – ceiling features such as scissor trusses, coved or raking ceilings can transform rooms – but they can come with a higher price tag so talk to your sales consultant about your budget and they can help you narrow down the options.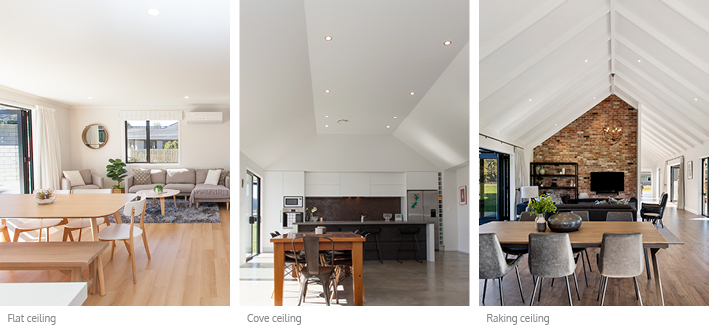 Make your mark inside a home
You might decide to build from a proven pre designed plan and keep the structural layout the same – and why not? It can make planning much easier and free you up to focus on the fun part- the interior. Kitchen, bathrooms, flooring, walls, laundry… building from a plan does not mean looking the same as other houses! A good sales consultant can guide you through the process and help you personalise the interior of your home, and bring all the ideas you've been collecting to life.
Browse images and videos from some of Urban Homes' favourite projects in Hamilton and the Waikato, including award-winning builds.
Bring your own plans to the table
Many house building companies are happy for you to bring your own plans to the table. If the plans need modifying to suit your section or budget, they can help you do that too. You don't always have to use their plans – again it pays to look around and see what options are out there.
Do your homework and get good advice
Existing house plans can provide a great framework for your new build. Using house plans can make planning and budgeting a lot simpler, and you know that the design and layout has been well thought out. Find a house building company that not only has a good range of floor plans, but that is willing to work with you to personalise plans to make them your own.