Written by Vicky Noorland on Sep 30, 2020
Urban Homes opens the doors to new Hamilton headquarters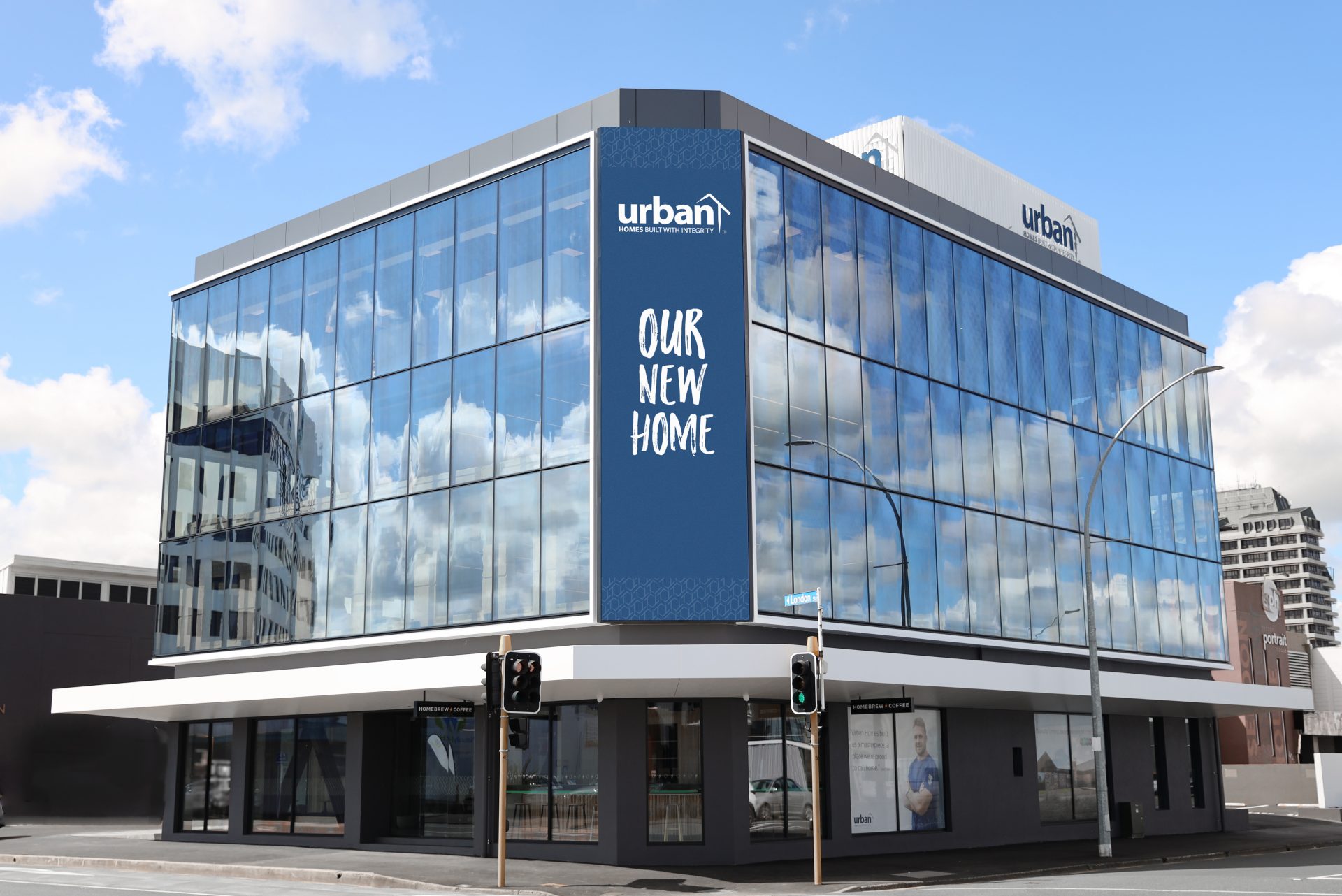 Urban Homes set to move into new Hamilton city headquarters
Refurbished four-storey former AMI building
Interactive top floor design centre – StudioU – to open in November
Two years of planning will come to fruition when Urban Homes opens the doors to its new Hamilton headquarters this week.
The move is reflective of the rapid growth experienced by the national award-winning Master Builder, following the establishment of Urban Homes by founders Daniel and Bronwyn Klinkenberg in 2004.
"When Urban Homes was launched, we operated out of our home office," says Daniel. "We moved into our current offices in 2015 but our team has grown alongside the business over the last five years, and we are excited to be delivering them and our clients a new space."
Urban Homes has been operating out of multiple central city locations to cater for the additional resource and people that have come on board, but come Friday, office-based staff will be housed in the new office at the intersection on the corner of Anglesea Street and London Street.
Cambridge-based Homebrew Coffee will operate a coffee bar in partnership with Urban Homes on the ground floor.
"We have aligned values – great customer service and a passion for people," says Homebrew Coffee Founder Tayler Paterson, "and we're looking forward to making quality coffee just the way you like it."
The new space has been designed by Edwards White Architects and will allow for the future growth of Urban Homes.
"Bronni and I were looking for an HQ building that meets our current needs and gives us the space to continue to grow and develop," explains Daniel. "We have a dedicated team that continues to deliver quality homes across the Waikato and beyond, and we look forward to building on that."
After taking ownership of the old AMI building in September 2018, the refurbishment commenced in May last year and despite the impact of Covid-19, has made good time thanks to lead contractors Foster Construction.
The result is a new-look glass exterior, which provides a glimpse to the inside and several large steel K-braces, which give the building a raw and industrial feel. The K-braces have been installed to comply with earthquake strengthening regulations.
"We knew it had solid bones in terms of structure, and we didn't want to hide that. We love the industrial look of concrete and steel, it's modern and in keeping with our brand."
Another exciting feature will be the interactive design centre – StudioU – on the building's top floor, which is set to open in November. StudioU will allow prospective clients to visualise and plan their new home like never before.
The state-of-the-art building and design centre are a giant leap forward for the company, but Daniel is most proud of the overall environment that the Urban Homes HQ will create for its people.
"At the heart of it, we wanted to create a space that our staff love to work in and to give our clients the "wow" factor. We're extremely happy with the final result."
For more information, please contact:
Urban Homes
0800 MY URBAN
About Urban Homes
Urban Homes is Waikato's most awarded Master Builder. Founded in 2004 by Daniel and Bronwyn Klinkenberg, today Urban Homes builds beautiful homes with integrity across the Waikato, Waipa, South Auckland and Coromandel. Urban Homes also believes in giving back to the community it works in, and the company is a proud sponsor of Waikato charity, True Colours Children's Health Trust.
About Homebrew Coffee
Homebrew Coffee is changing the way coffee is served. We make quality coffee just the way you like it. Convenient, delicious and handed to you by a barista who knows their stuff. Homebrew Coffee is changing the take-away game. Come and grab some eats and treats. We look forward to seeing you.